Staff
Robert J. Fucigna, M.D.
Robert J. Fucigna, M.D. is a fellowship-trained ophthalmologist specializing in cornea and refractive surgery. He earned his medical degree from the University of Medicine and Dentistry of New Jersey (UMDNJ) / New Jersey Medical School in 1991 after completing his undergraduate education at Villanova University. His post-graduate training began with an internship at Lenox Hill Hospital and an ophthalmology residency at UMDNJ. Dr. Fucigna then went on to complete a fellowship at The Manhattan Eye, Ear and Throat Hospital in cornea, anterior segment and refractive surgery.
Between his undergraduate and graduate schooling, Dr. Fucigna worked in a variety of research and teaching positions, including a pharmacology research assistant, tutor, laboratory assistant and teaching assistant at UMDNJ.
Dr. Fucigna has published articles in several peer-reviewed ophthalmology journals and presented his research at medical society meetings across the U.S. Topics have included laser treatment for farsightedness, ALK for nearsightedness, penetrating keratoplasty for astigmatism, and radial keratotomy (RK).
Throughout his career, Dr. Fucigna has been awarded scientific grants to pursue research in such areas as blindness prevention. The grants are as follows:
Edward & Marianne Blaauw Fund - Grant in Aid of Research
Peter Silver, O.D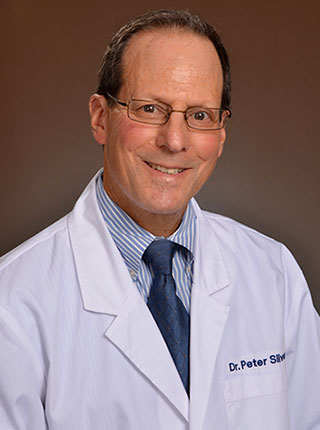 Peter A. Silver, OD, graduated from the Pennsylvania College of Optometry in 1976. Dr Silver's career has taken him through every phase of eye care possible. After starting and managing a private practice in Virginia, he came to the Northeast in 1991 to become the Director of Eye Care for Kaiser Permanente's White Plains, NY facility. Once joining Kaiser, he managed a staff of 5 eye care providers as well as supervised the SUNY Optometric Externship program for 4th year optometric students. In 1998, he joined TLC Laser Eye Group as Executive and Clinical Director in their White Plains laser center. For the next 7 years at TLC, he oversaw thousands of LASIK procedures, performing refractive surgery consults, pre- and post-op examinations, as well as overseeing a large referral network of doctors. In 2004, he joined Opticare, a large primary eye care organization, managing the Fairfield, CT office and over the next 10 years, saw thousands of patients, specializing in contact lenses, especially for difficult to fit patients. Following Opticare, he served as Practice Administrator for an ophthalmic surgical practice in Bronx, NY. He joined Advanced Ophthalmology of Connecticut in June of 2016 and presently sees patients on Mondays and Thursdays.
Dr Silver is a past member of the American Society of Ophthalmic Administrators (ASOA), the American Optometric Association (AOA), and the Beta Sigma Kappa Honor society.
Sara Lopez - Receptionist
Jocelyn Palma - Surgical Coordinator
Bridget Wolters - Technician
James Alfonso - Technician
Bryce Fitzpatrick - Technician
Office Hours
Monday: 8:00 am – 5:00 pm
Tuesday: 8:00 am – 5:00 pm
Wednesday: 8:00 am – 5:00 pm
Thursday: 8:00 am – 5:00 pm
Friday: 8:00 am – 5:00 pm